When to Paint the Exterior of Your Home
When you're talking about curb appeal, you can't
help but think of a nice, clean paint job on the exterior of your home. Our Paint Like A Pro expert John Peek from Peek Brothers Painting shares his expertise on what you need to know about exterior paint and when to paint the exterior of your home.
Weather Matters
Pay attention to the exterior of your house, especially after a change in seasons. In San Diego, the summer sun can cause as much damage to the exterior of your home as a winter storm.
Look for Signs of Trouble
Whether you have a wood siding, stucco or brick, you should closely inspect your house's exterior walls to look for trouble spots. Common areas of trouble are the areas under the graves and near gutter downspouts. If you find water stains, it normally indicates that your gutters are not sufficiently containing water running off the roof. In that case, you would want to address the issue before painting the exterior of your home.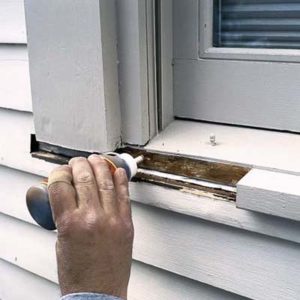 If your exterior walls have wood siding, check for gaps or openings and any other damaged areas that have popped out. These damage areas make it possible for carpenter ants and other types of insects to nest or burrow.
Typically the rotted exterior molding is difficult to remove and very expensive to replace. However, epoxy is very easy to handle and can be molded like clay to repair rotted surfaces. When hired for an exterior paint job, a quality painting contractor should be able to address these minor repairs.
Inspecting Your Paint's Condition
If your homes exterior is peeling or faded, it's time to paint. But if you look at your house and it's hard to see much damage, decay, or other such problems the question of when to paint the exterior of your home is harder to answer. Have a professional do an inspection to assess the situation better.

And, of course, if you are looking to make an aesthetic change to your home, painting the exterior of the house or the trim will have a dramatic impact.